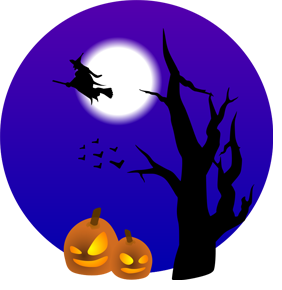 HOLM wishes you a

Happy Halloween
Lake Mary Historical Museum will be hosting Ghost Walks on October 18 and October 25 starting at 6:30pm. Each walk takes about 45 minutes. Reservations are Required. Call 407-585-1481 to make Reservations. Storytellers will tell you the Spooky Tales of Lake Mary. It will be a frightfully fun time. The cost is $6. for adults and $4.for children.
The Museum is featuring the Halloween Costume Exhibit through October 25th. featurring vintage costumes and decorations. Admission is Free. The exhibit is open on Tuesday and Saturday from 10AM until 3PM, and Wednesday and Thursday from noon until 8PM or by appointment by calling 407-585-1481.
The Museum is located at 158 North Country Club Road near the City Hall.
The City of Lake Mary's Halloween Spooktacular will be held on Friday October 31 between 5:30PM to 8:00 PM at the Central Park in Downtown Lake Mary. Enjoy safe Trick-or-Treating, Music & Games, Kiddie Train Rides and a Childerss Costume Contest. Call 407-585-1416 for event information.

More children are hit by vehicles on October 31st than any other day of the year. Please drive carefully and keep the little ones safe. Thank you.
Community Crime Watch
There have been recent reports of crimes in our community. Homeowners should watch out for suspicious or unusual behavior and be vigilant in reporting any unusual activity to the police.
Recently a car was stolen from the driveway of a homeowner during the night. Always make sure your car doors are locked when your car is parked and that you have removed valuables. You should use a car alarm. You may also consider having an ignition kill switch installed that only you will know where it is located. This will hopefully cause enough of a burden to the thief to stop your car from being stolen.
A homeowners has reported that in the early morning hours someone was knocking on a door yelling "I'm hurt let me in". When the homeowner stated that they were calling the police, the person ran off. This was an attempt to gain entry to the home and the owner would have been in grave danger if they had opened the door. You should never open your door to someone that you don't know and always keep all of your doors and windows locked and secured.
Home bulgaries have also been reported. You should consider installing motion activated lights on the exterior of your home. Lights are the best deterrent to crime.
More information and tips can be found at:
Central Florida Crime Prevention Association
National Crime Prevention Council
Welcome to the HOLM Web Site
Welcome to our Website for Hills of Lake Mary HOA.
The purpose of this site is to let visitors know who we are and to be an informative resource for both our neighborhood and our local community and provide the homeowners of our community with easy access to our association. The Board of Directors welcomes you and invites you to make comments or suggestions that will help us serve you better.
The Association is managed by a volunteer Board of Directors. The Association Board of Directors meets the first Wednesday of every month at the Lake Mary Events Center on Country Club Road.
The Mission of the HOA is dedicated to preserving and enhansing the quality of life in our neighborhood through outstanding leadership, services, and stewardship of our resources.
Thank you for stopping by and enjoy touring our website.
Register on our site and Join our e-mail List!
Register for access to the Homeowner only area of our website. To Register for membership, click the link on the top left of this page. After your application is reviewed and approved, you will be notified by e-mail.
The Members only area of the website provides access to valuable information and documents for our Association.
Our new Website allows you to join our neighborhood email list. If you would like us to add you to the list, please Register as a Member on our website. Being on the email list allows us to communicate with you on neighborhood issues and alert you to security situations in the neighborhood such as break-ins, robberies and vandalism. We are able to send emails to residents within hours of receiving this information. Our email list can also help reunite many lost pets with their owners!
Keep Our Community Clean
Help us keep our community clean. Clean up after your pets by "Scooping Your Poop". When people don't clean up after their pets, it's unhealthy and inconsiderate.
Put out your trash/recycling no earlier than 5:00 PM the night before the pickup. Yard Waste pickup is Wednesday, Trash and Recycling pickup is Thursday. Please remove your containers from the curbside promptly after pickup.